London Gatwick Taxi Cab Service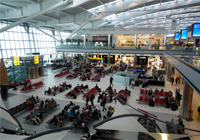 Your First Choice for Gatwick Airport Transfers

London2airports.com provide taxi cab services to and from Gatwick Airport from across London. Our Gatwick car service operates 24 hours a day, 365 days a year.

Call us now for a highly competitive quote or book online using our simple online form.
Gatwick Taxis & Mini Cabs
Our fully pco licensed Gatwick car service is considerably cheaper than a traditional London taxi or black cab. This enables us to provide an extremely cost effective airport transfer to or from London Aldgate to any of Londons major airports..
Popular Gatwick Airport Transfers

Gatwick to Heathrow Airport
Gatwick to Luton Airport
Gatwick to Stansted Airport
Gatwick to City Airport
Great Prices On Gatwick Transfers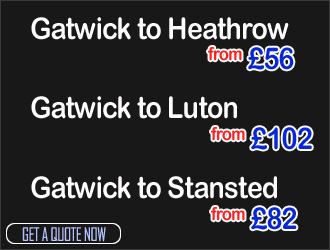 Why Choose Us?
Reliable, safe, comfortable and quality service 24 hours & seven days a week
Competitive rates (the best value for your money)
Each journey is customised to suit your needs
Vehicle baby & booster seats on request
Instant confirmation and peace of mind
24 hour booking service (with trained operators)
24 hour customer service (with trained operators)
Able to tailor your journey to anywhere in the U.K
We will monitor all flights for delays
3 Payment methods - Cash to driver, Online payment, or Credit card payment by phone