London Highbury Airport Transfers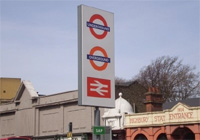 London Highbury to Any of Londons Major Airports

Our London airport transfer service is available from Highbury and the surrounding parts of London. If you live in or near Highbury and are looking for an airport taxi to or from any of Londons major airports, please get in touch with our call centre who will be happy to advise you or give you a highly competitive quote for your Highbury airport transfer.
London Highbury Taxis & Mini Cabs
Our fully pco licensed car service is considerably cheaper than a traditional London taxi or black cab. This enables us to provide an extremely cost effective airport transfer to or from London Highbury to any of Londons major airports.
Popular Hotels In or Near Highbury
Below is a list of some popular hotels in the Highbury area.
Tommy Miahs Raj Hotel - London Highbury
366-368 Essex Road
Nr Highbury
London N1 3PD
tel: 020 7359 4118
The Pembury Hotel - London Nr Highbury
326-328 Seven Sisters Road
Highbury
London, N4 2AP
tel: 020 7354 3322
Popular Highbury Airport Routes

Highbury to Gatwick Airport
Highbury to Heathrow Airport
Highbury to Luton Airport
Highbury to London City Airport
Highbury to Stansted Airport
Great Prices On Highbury Transfers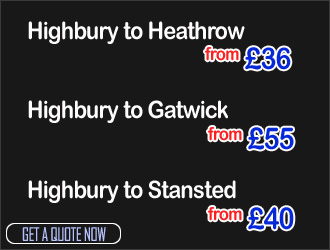 Why Choose Us?
Reliable, safe, comfortable and quality service 24 hours & seven days a week
Competitive rates (the best value for your money)
Each journey is customised to suit your needs
Vehicle baby & booster seats on request
Instant confirmation and peace of mind
24 hour booking service (with trained operators)
24 hour customer service (with trained operators)
Able to tailor your journey to anywhere in the U.K
We will monitor all flights for delays
3 Payment methods - Cash to driver, Online payment, or Credit card payment by phone
Popular Routes

Using the latest in satellite technology, we can pick you up or drop you off at any of the following popular London locations.
Online Booking
For a safe and comfortable transfer for your journey please refer to our online booking section or phone our team of trained operators (available 24 hours) who will note the number of passengers and amount of luggage to customise your journey to your specific needs.

UK Wide Coverage
We can pick you up from anywhere in the UK and take you to anywhere in the UK. All of our passengers will be met at the information desk, by the driver, who will hold a London2airport board displaying the details of the client's name and flight number.

If you cannot see our driver please contact our trained operator on 020 8503 0008, who will guide the driver and will remain on the line until they have successfully united you with the driver.